14.04.2020
#leaveNoSmeBehind #3hrPledge
SMEs are the oxygen of human potential, a birthplace of unapologetic innovation and career reinvention. They energise local communities and positively disrupt working norms. Unfortunately, for some, their existence is under threat due to the economic impact of Covid-19.
While there is a ray of hope with the UK Treasury exploring a rescue package for startups, one SME has quickly turned an unmet need into a positive social movement which we are proud to support.
Leave No SME Behind /  3Hr Pledge campaign by Farillio, a legal tech startup, has created a platform for businesses to donate time and skills to help cash-strapped SMEs.
If you're an SME, it's a source of expertise you may need to weather the storm. If you are an expert (e.g. digital marketing, finance etc), your volunteering will be cheered on by many!
We are proud to support this great initiative which aims to mobilise social connection, collaboration and humanity to help save businesses.
JOIN!
Via Twitter #leavenosmebehind #3hrpledge
Or email: nilema@farill.io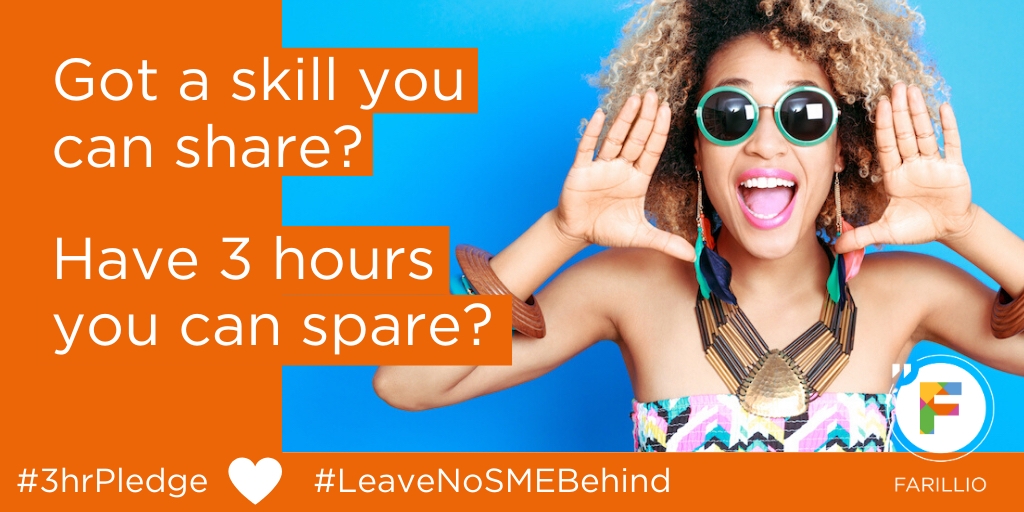 Please note that the #leavenosmebehind #3hrpledge campaign is timebound organised by Farillio, a separate business entity. For more information, please visit:  bit.ly/2UxnTkK
#community #3hrpledge #SmallBusinesses #smallbiz #covid19